Macabi Film Productions
Please excuse our appearance as our web site is under construction.
Please visit our other website: www.martialartstherapy.org
These photos were taken the other night in the NYC subway system from our last action drama rehearsal that I was directing using martial arts stunt men, actors and actresses. The main photo was where the main character, Officer Tzedek was protecting a woman who was attacked by a gang in the subway car in motion. The photos will also be used to promote the movie "Chasing Justice". Some of the photos may be in the NY Post and other publications as a news story about my company Macabi Film Productions and what we are trying to accomplish about producing action drama movies with the theme of empowerment and social justice through the life of Rabbi Sensei Officer Tzedek (Justice).

Of course these are exploits from my work as a NYC Police Officer/investigator/trainer, NYC high school teacher and social worker investigating corruption in three NYC departments including the Dept. of Education, Dept. of Health and the NYC Police Department. In the NYPD I later became known pejoratively as "Serpiwitz", from the movie "Serpico" who was the famous police officer whistle blower in the 1970's who sparked the Knapp Commission on Police Corruption. I was later called as an expert witness at three governmental hearings on police brutality and corruption including the NYC City Council, the NYS Assembly and the joint NYC/NYS/Federal hearings on the Sean Bell Fifty shot shooting fiasco. There is intrigue, adventure, romance, action, drama, feeling good scenes and more in the films.
We are in contact with People Magazine and other national publications to garnish the needed public relations to raise the requisite funding for the film. View our web site to read the synopsis and more about the production. Over the years four groups paid me for optioning my rights but they never went into production. I formed my own company Macabi Film Productions and hope to raise the money for a series of low budget action drama films which I believe will receive much positive media attention. I am seeking to raise twenty five million dollars for a series of three low budget films which would certainly attract the Jewish, Christian, Black and Hispanic communities. There are lots of feel good scenes which will resonate with all people who crave empowerment in some form or another and who enjoy beating back the bad guys. We have put together an enthusiastic team working diligently on raising the funds and working on producing a trailer about the first film. Kindly view our website (under construction) which is hosting a series of synopsis about several of the movie projects which each are based on real events of the time which still has serious ramifications and consequences for today.
THE JEWISH SCIENCE & SOCIAL ACTION ACADEMY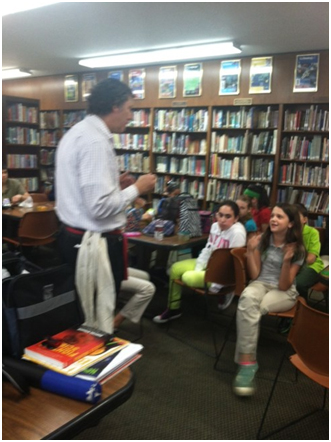 What happens when you combine neurology, marital arts, and social action? Students at Solomon Schechter School of Queens are finding out, transforming science and Torah learning into profoundly meaningful action. Twenty middle schoolers met with Rabbi Sensai Gavriael Moskowitz in the opening session of our Jewish Science & Social Action Academy; aimed at utilizing martial arts therapy to combat disease and disability.
Students will come into direct contact with children with cancer and other illnesses and disabilities, utilizing martial arts for fun, pain management, and development of motor skills.
READ MORE...